What Is An Ambassador
These days we don't seem to hear as much about 'ambassadors' as we once did. Not sure why this is but maybe international diplomacy doesn't rate so high in the 24 hour news cycle any more.
With Tweets and emails and other electronic media maybe it is all out there anyway and maybe news about diplomacy just has to take a back seat.
So what is an 'ambassador' anyway – In brief Wikipedia tells us
'An ambassador is an official envoy, especially a high-ranking diplomat who represents a state….'
and goes on to say
'The word is also often used more liberally for persons who are known….to represent certain professions, activities and fields of endeavor such as sales.'
This is more in line with where we are headed.
We Are All Ambasadors
In fact in everyday life we are all 'ambassadors' even if we don't think so.
Reason is we are all 'on show' wherever we are and over time we build a picture of ourselves in other people minds.
Your Reputation Is Important
Commonly called our 'reputation' it is something that is inherently very valuable and needs to be looked after with care.
It takes time to build a reputation but in some circumstances it can be destroyed almost instantaneously.
This is especially true for someone in public life. They may have done many notable things but then fall by the wayside with an inappropriate comment or action that is disapproved by their colleagues or the public.
Be Careful Everything Online Is Remembered
Today's electronic media, which 'remembers everything,' makes this possibility even more likely than in years gone by. And it is certainly a message that many younger people need to be made aware of.
An inappropriate Facebook post may come back to haunt them many years down the track when they are applying for a new position or seeking a security clearance.
Online Reputations Are Important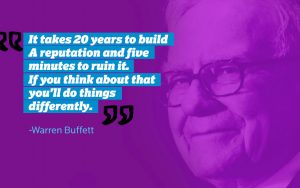 In the online world reputations are equally as important as they are in daily life.
And, just as in life, they take time to build and maintain.
This is why, if you are seeking to make an online income, it is important to first establish the reputation of anyone you chose to relying on.
In the Make Money Online (MMO) world there are some charlatans out there who hide behind the anonymity that is so easy to create on line.
How To Find Reputable People Online
A good approach to use when looking for a reputable person online is to research them via their blog.
Then look for comments from others and feedback on forum sites.
Check out who they associate with online and see if these people have comparable reputations.
One person who has openly built an untarnished online reputation over the last 15 years is John Thornhill. John is one amongst many good people that you can find online .
Remember the old saying 'Birds of a feather flock together' – this applies to many situations including reputations.
Why John Thornhill
John is a Recognised JVZoo 'Product of The Day' Vendor, Top 1% JVZoo Affiliate, Top 1% Platinum ClickBank Vendor & Affiliate and World Renowned Success Coach.
While all of this may not mean a lot to you at the moment it does mean that he comes with a well established online reputation second to none.
If you are looking for an opportunity to earn an income online John has recently updated one of his programs that provides an almost perfect opportunity to do so.
Take a look HERE and the reason for all the previous ambassador references will become clear.
The One Thing Needed To Succeed
Over the years John has had thousands of interactions with his students and subscribers.
Time and again he has found there is one big thing that keeps coming up that they aren't doing. And it's stopping them becoming successful.
Not doing this ONE THING guarantees you will not succeed online.  John reveals what it is and how to 'fix it' in under 5 minutes in this brand new LIVE webinar you can Watch Right Here.
If you are willing to do the work there is no one better to show you how to get something going that works.
His approach doesn't take months, or even years of hard work.  In fact, you can be up an running in just 27 minutes.
#With no list.
#No Website.
#And no experience needed.
This is brand new content that has never been revealed before so I really hope you watch it.
I promise you won't regret it.

Talk again soon
Ian Whyte
PS
If boosting your traffic is more your thing Check Out Viral Traffic Boost Here
PPS
Or Check out Duwad Islam. In his  product Puma2  he explains in detail how he builds a product from scratch as per John's principles.