A Leaking Water Main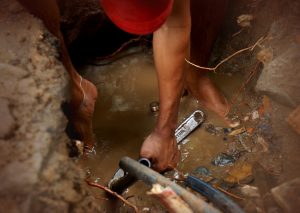 What has a water leak got to do with making money online you might ask. Probably not a lot in practical terms but if you take a more generalised view there are some lessons to be learned.
So it all started with a letter from the local council telling me I had doubled my water consumption over the past quarter. Better get it fixed. You pay for any water used no matter how it is consumed.
Not exactly what you want to hear because I had been through the whole experience about 5 years before. Then the leak detection operator was a complete turkey.
But it had to be done so I set about getting an alternative leak detector operator on site. After two visits he located the approximate spot and duly marked out a rectangle on the grass. (Should note I live on a large block which adds to the detection challenge)
Plumber arranged for a Saturday morning and he duly arrived with his back hoe and off sider. No need to go into details about digging holes. Other than to say it was relatively deep and we needed to avoid damaging a large stormwater pipe in the same trench as the water main.
We Struck Water
Eventually we struck a steady run of water into the trench. Further investigation found there was a 'foreign object' in the same spot under the stormwater pipe – namely a brick – and it had now rubbed on the poly watermain to the point where it was right through. Hence the leak!
Placed there over 20 years ago, and long forgotten, the brick had been used to support the stormwater pipe so that it didn't bow and the fall of the line was maintained.
I was probably the culprit 🙂
The Point of The Story
Something that you did long ago and have long forgotten – be it good or bad – can have a direct impact on you years later. And this definitely applies to the things we do when trying to generate an online income.
If we are advised to take a particular course of action by our tutor then, even if it seems a bit pointless at the time, we should follow through with it.
Moving Into The Online World
One of the hardest things I find trying to generate an online income is performing tasks that don't seem to create any direct outcome at the time.
For example creating a blog post like this doesn't seem to create any direct outcome or result. Yet John Thornhill is adamant that your blog is the most valuable site that you can have.
Whereas putting up and configuring a niche WordPress site seems to produce a 'real' result.
First you research the niche, purchase a domain name, get it hosted and load WordPress with a theme and plugins. Now you have built something 'real' that you can see and work on. That's something of value – or is it?
The answer is obviously 'It depends' but we won't pursue that for the moment.
Does It Help You Reach Your Goal?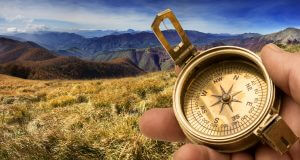 Leaving aside the need to get traffic to your new site, get it ranked on Google, monetize it and just plain maintain it the bigger question is – 'Have you progressed further towards your goal of making money online?'
Sadly the answer is usually 'Probably not'
This particular issue is a real risk for technically orientated people, like myself, who enjoy the many technical aspects associated with the online world. It can be very challenging and satisfying to take a blank screen and end up with a real live website on your desktop.
Then there are all the associated tweeks and tools that you can use – like clever plugins – to make different things happen.
Before you know it you have either spent more money or consumed a whole lot of your time for little or no real progress towards your online income goal.
The Real Issue
And this is the real issue.
If you really want to build an online income it is no use just doing your own thing.
Hard as it may seem we all need to listen to those who have successfully gone on before like John Thornhill, Eric Hammer, Omar and Melinda Martin, Steve Alvey, Richard Fairburn and Paul O'Keeffe to name but a few.
What To Do About It
The key is to pick a mentor and follow through.
I'm not suggesting that you try and follow every one of these seeming 'overnight successes' who have been at it for many years.
By all means check them out. Take advantage of the tips and help they provide on their blogs and in emails or webinars. But at the end of the day pick one mentor and follow their training to completion.
Summary
There we have have it.
How to get from a water leak in the yard to successfully earning an online income.
First choose a mentor. Then start laying a foundation for an online income with tasks that sometimes don't seem to give any immediate return – but have the potential, maybe some years away, to ultimately be very rewarding.
Talk again soon.
Ian Whyte
PS One of the best mentor programs available is John Thornhill's Partnership to Success.
Click the link HERE to get more information.
PPS And if you think John Thornhill is not for you then maybe one of the others
like Eric Hammer's The Income Formula will help